EPISODE 6 – Nimkii
Trailer
Episode 6
Nimkii
Written and directed by Roxann Whitebean
Isaac Murdoch and Christi Belcourt founded the Onaman Collective, which represents a group of multidisciplinary artists who focus on land-based decolonization. They established a new traditional community called Nimkii Aazhibikong in Northern Ontario. Under the guidance of elders, they studied ancient markings from the past and are carrying them forward by tattooing individuals from various nations to unify the Indigenous peoples of the land.
Biographies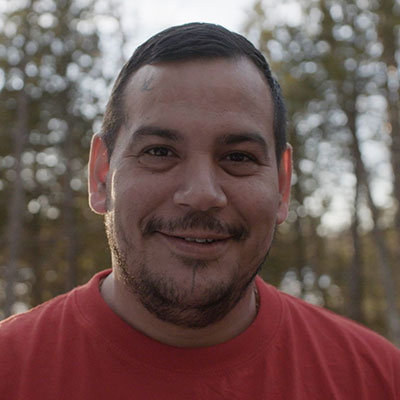 Isaac Murdoch
Isaac Murdoch is a well-respected storyteller and traditional knowledge holder from the fish clan, Serpent River First Nation. He grew up learning to live off the land in a traditional setting of hunting, fishing and trapping. He spent many years in northern Alberta, Saskatchewan and Manitoba learning from Elders. He is always keen to transfer knowledge to youth by leading workshops and cultural camps. His areas of expertise include traditional Ojibway paint, imagery and symbolism, harvesting, medicine walks, ceremonial knowledge, Anishinaabe oral history and birch bark canoe and scroll making. Isaac has committed his life to the preservation of Anishinaabe cultural practices.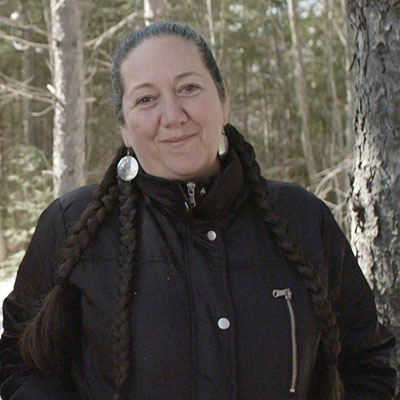 Christi Belcourt
Christi Belcourt is a Métis visual artist of Mânitow Sâkahikan ancestry living along the North Shore of Lake Huron. She has a deep respect for her peoples' traditions and knowledge, which is evident in her work celebrating the beauty of nature. Christi is an author, co-author and collaborator on several books and titles. Her work is found at the National Gallery of Canada, the Art Gallery of Ontario, Gabriel Dumont Institute, the Indian and Inuit Art Collection, Parliament Hill, the Thunder Bay Art Gallery and Canadian Museum of Civilization, First People's Hall. Christi has received awards from the Canada Council for the Arts, the Ontario Arts Council, the Chalmers Family Fund and the Métis Nation of Ontario. She was named Aboriginal Arts Laureate in 2014 and was twice shortlisted for the Premier's Award. She is currently the lead coordinator for Walking With Our Sisters.
Pictures
Behind the scenes