EPISODE 1 – HUITOTO
Trailer
Episode 1
HUITOTO
Written and directed by Randy Kelly
Pablo is part of the Huitoto tribe, one of the many Indigenous tribes that call the Amazon forest home. The Huitotos traditional land is around the Southern Colombian city of Leticia, bordering both Brazil and Peru. Although the Huitoto were traditionally hunter-gatherers, many of the remaining Huitoto people have adapted a westernized lifestyle. Pablo is trying to keep many of his culture's traditions alive, these include singing and dancing, hunting and fishing, basket weaving, cultivating and transforming coca leaves and body painting for special occasions.
Biography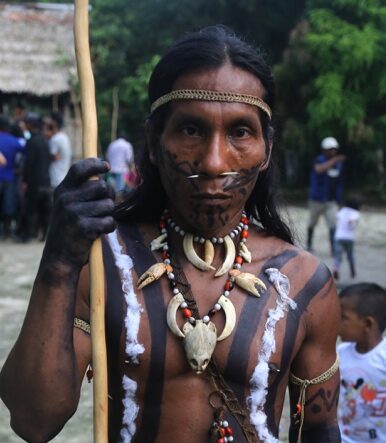 PABLO ZAFIREKUDO
Pablo Zafirekudo is a 40-year-old member of the Huitoto tribe in the Amazon forest in Southern Colombia. He has had many occupations in his young life but has found his calling in preserving the rapidly disappearing ancestral traditions of his people.
He is now working as a guide and is a cultural practitioner of traditional dancing, singing, hunting, fishing, coca-leaf preparation and of the ceremonial art of jagua bodypainting.
Pictures